First Post!
09/02/2013 |
Categories:
So this will be the inaugural post for my attempt at keeping up a running photography blog.  Figured I'd keep it to informative and interesting posts about photography for the nonce.
Since I started with my Kodak Z1012 IS and then later upgraded to my Nikon D3100 I've learned alot about photography and hopefully improved my skills as well.  First here's a (bad) image of my current Nikon gear taken with my old Kodak Z (black and white to hide just how horrible the sensor on that camera really is with bad lighting

)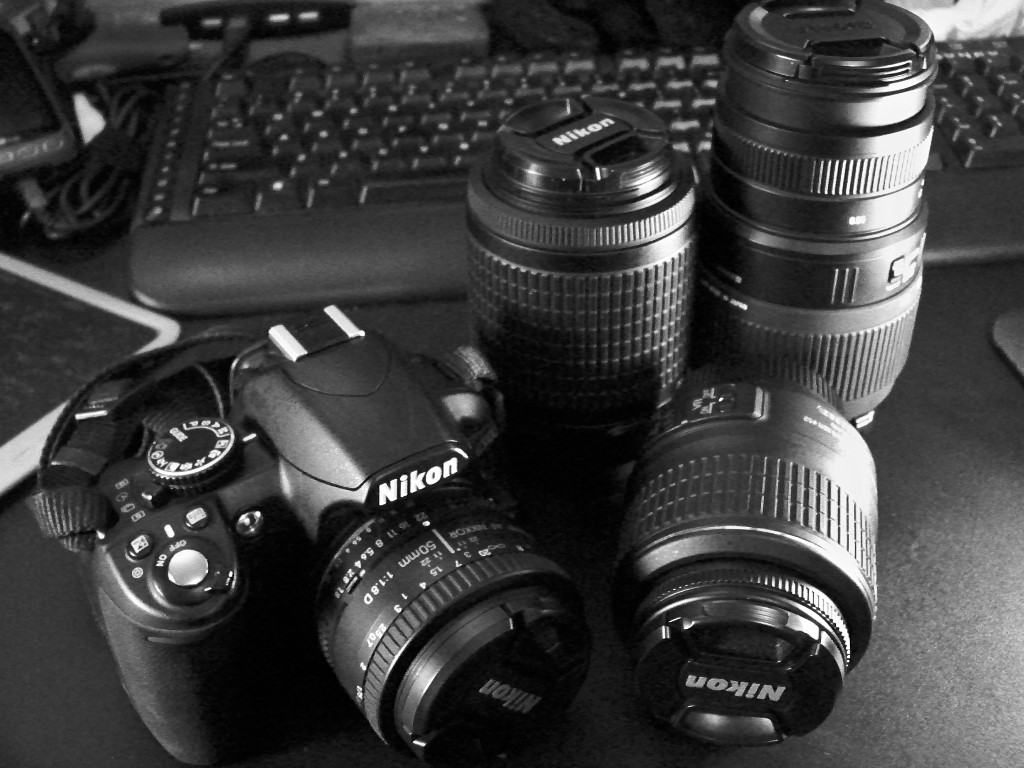 It's a D3100 (DX sensor) with a 50mm Nikkor 1.8, the kit 18-55mm, plus another Nikkor 55-200 and lastly the tall one in the upper-right is my Sigma 70-300.  They are all fairly 'cheap' glass but I think my results are improving with them.  One day I would like to upgrade possibly to a better body (7100 maybe) or faster/better lenses but for now this is what I have and I make do.
So I feel like I have a good range of entry level gear and hopefully as I progress I can improve both my skills with just those as well as improve them over time.  My next 'wishlist' item will probably be this, a 35mm 1.8 that has auto-focus (that 50 doesn't have AF on the 3/5XXX  series bodies).
Software-wise I'm also budget bracketed.  But ViewNX, Rawtherapee, Gimp 2.8 and Photoshop CS2 are all good tools for working on post production I think.
What do you use for gear?  What do you use for editing?  Let me know in the comments or email me at 'paul@paulwoolleyphotos.com' !